Black Mountain College - Artists from The Maslow Collection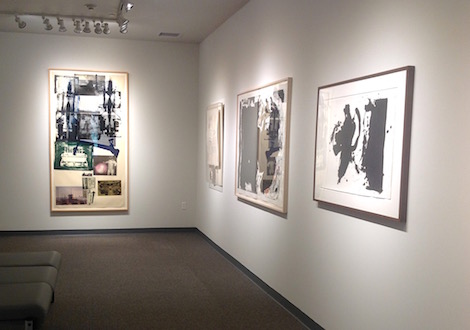 Left to Right: Robert Rauschenberg, Hotshot, 1983; Robert Rauschenberg, Truth #35, 1982; Robert Motherwell, Lament for Lorca, 1982; Robert Motherwell, Elegy Study AFA #209, 1979
Maslow Gallery
Sep 10, 2016 - Sep 30, 2016
The rationale for the selection of works from The Maslow Collection for this installation in the Maslow Study Gallery was based on identifying artists in the Collection who were either teachers or students at Black Mountain College near Asheville, North Carolina during the 1940s and 1950s. This installation is linked to the current exhibition in Marywood's Mahady Gallery. "M.C. Richards Centering: Life + Art – 100 years". M.C. [Mary Caroline] Richards was a poet, potter, translator, and writer who taught at Black Mountain College between 1945 and 1951 and returned to the College as a student to further her studies in pottery in 1953. Richards provided a major contribution to enhancing and expanding the nature of the collaborative learning and experiencing environment at Black Mountain.
The artists in this exhibition include Robert Motherwell, who taught at Black Mountain College during the summer of 1951. This particular summer proved to be a very significant period of time at Black Mountain; it was during this summer that John Cage created what is recognized as the first 'happening', titled Theater Piece #1. Robert Rauschenberg, who took part in the Happening, was a student at Black Mountain during the summer of 1951, having first arrived at the College in 1948 when he initially studied under Josef Albers (who left the following year). Rauschenberg was to spend additional time at Black Mountain after 1951 as well. It was also during the summer of 1951 that Rauschenberg completed his first series of 'White Paintings' that received intense critical attention and greatly influenced the expanding dialogue within contemporary art.
Kenneth Snelson, represented in this installation with his 360 degree photograph of Wall Street, is known more for his sculpture of metal rods and cable that evolved at Black Mountain while he was a student in the summer sessions taught by Buckminster Fuller in 1948, and after. The now famous geodesic dome that is generally attributed to Fuller was actually conceived by Snelson while at Black Mountain.
Two other artists in this installation who studied at Black Mountain were Dorothea Rockburne and Harry Callahan. The work by Peter Halley (who was not at Black Mountain) in this exhibition was included because much of his work done after the late 1970s relates to the color theories of Josef Albers, the founding art professor at Black Mountain.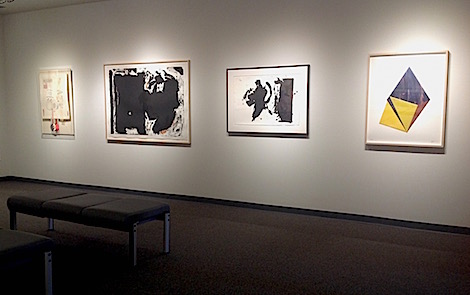 Left to Right: Robert Rauschenberg, Truth #35, 1982; Robert Motherwell, Lament for Lorca, 1982; Robert Motherwell, Elegy Study AFA #209, 1979; Dorothea Rockburne, Radiance, 1983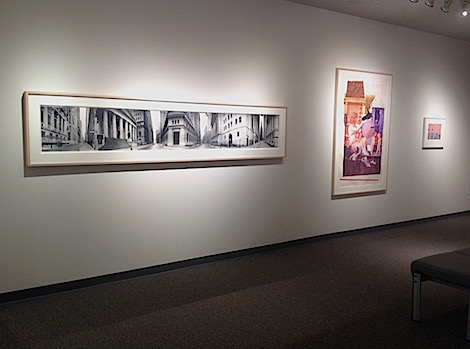 Left to Right: Kenneth Snelson, Wall Street, 1980; Robert Rauschenberg, Bellini #2, 1987; Harry Callahan, Morocco, 1980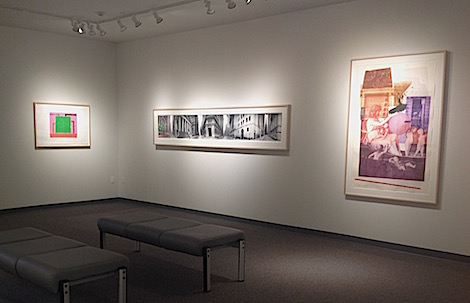 Left to Right: Peter Halley, Display, 1991; Kenneth Snelson, Wall Street, 1980; Robert Rauschenberg, Bellini #2, 1987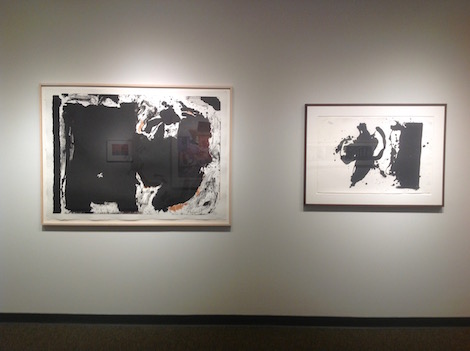 Left to Right: Robert Motherwell, Lament for Lorca, 1982; Robert Motherwell, Elegy Study AFA #209, 1979
---
All Current Exhibitions | All Future Exhibitions | Exhibition Archive
---